It seems everyone who visits Caddo Lake in east Texas comes away with a profoundly personal impression. "I've never had an experience like this on a Texas lake," said one first-time visitor. "It's so mysterious, but beautiful. I understand why people want to come to this area and return many times."
What struck me about the place the first time I saw it was the powerful suggestion of the supernatural that it evoked. Strange shapes shifted in the mist from its cilantro-colored surface. Spanish moss dangled like serpents from its cypress branches. Ghost stories practically oozed from its forested shores.
Legend has it the lake was formed by the New Madrid earthquakes in 1811 and 1812. There may be some truth to the legend, as Reelfoot Lake in Tennessee was formed by that seismic disturbance. Some geologists believe Caddo was a byproduct of the Great Raft, a 100-mile-long logjam on the Red River in Louisiana that flooded the surrounding low-lying plain.
Either way, weird.
The lake was well known by Native Americans, but substantial development didn't follow until the invention of the steamboat and U.S. annexation of both Louisiana and Texas in the 19th century. The towns of Port Caddo, Swanson's Landing and Jefferson in Texas and Mooringsport in Louisiana had thriving riverboat ports on the lake.
Today, Caddo is considered a fisherman's paradise, a photographer's heaven and a nature lover's dream. It's a three-hour drive from Dallas, four hours from Houston and six hours from Austin. There are public boat ramps, as well as a few privately owned marinas. One can rent canoes, jon boats and other vessels for boating and fishing on the Lake. Because of the abundant plant life and swamp-like conditions, however, larger speedboats are not recommended.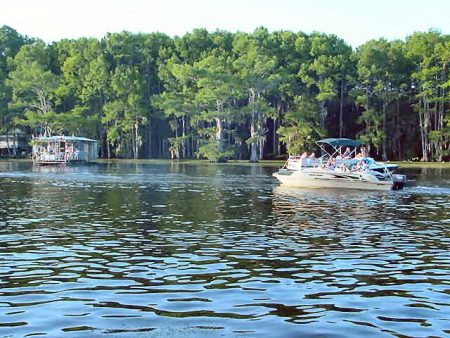 Natural, Abundant
Caddo is the only natural lake in Texas, encompassing approximately 30,000 acres of water. It has an average depth of 8 feet, with the deepest water measuring about 20 feet. It offers many bayous, channels, waterways and sloughs that delight the fisherman.
Indeed, the lake is an angler's delight. Largemouth bass is the most popular sport fish caught here, but the lake also has sizable populations of white bass, blue catfish and hardhead catfish. Another good sport fish is the chain pickerel, a smaller relative of the Northern pike.
Caddo Lake is fed by Big Cypress Bayou and begins near Karnack, Texas, on that state's eastern edge. It twists and turns through the piney woods until it becomes a deep river. The lake empties into Twelve Mile Bayou, the Atchafalaya River, the Mississippi and the Gulf of Mexico.
Some of the abundant wildlife includes white-tailed deer, raccoons, beavers, mink, armadillos, frogs, turtles, snakes, alligators and considerable waterfowl. Since the Ivory-billed woodpecker, thought to be extinct for many years, has been rediscovered in southeastern Arkansas, many people think Caddo Lake is the ideal place to see this bird again. The rare bird inhabited Caddo Lake in earlier years.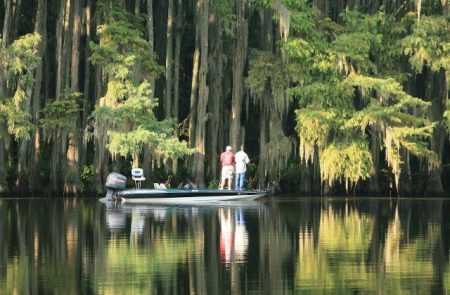 Preserving the Lake
Mrs. Lyndon B. Johnson was raised in nearby Karnack, Texas, and had many fond memories of Caddo Lake during her childhood. Her father, Thomas Jefferson Taylor, wanted to preserve the beautiful area and so donated a large portion of land for a park here.
The Caddo Lake State Park and Wildlife Management Area consists of 8,129 acres in Harrison and Marion Counties in Texas. Uplands here are heavy with pine, hickory and oak trees, while the lower areas have beautiful cypress trees with mossy beards, lily pads and other plant life.
Activities awaiting visitors in Caddo Lake State Park include fishing, boating, hiking, biking, horseback riding, wildlife viewing, hunting and overnight camping.
John Winn, 48, one of the area's most prominent guides, sums up his impression of Caddo this way: "In a way, this lake raised me. Most everything important I've ever done has been done on this lake." Everyone who lives here, and who visits, seems very sensitive about preserving Caddo Lakes these days. But it's still fragile. You can break it real easily.
Author: Mary Syrett is a contributor to HeartLand Boating magazine.