It's possible to complete The Great Loop in most any kind of vessel, be it kayak, pontoon boat or 70-foot luxury yacht. But why make it harder than it has to be? Fact is, some craft are just better suited to the task. Here are six new models to consider when preparing for your 6,000-mile circumnavigation of the eastern United States, and why.
Beneteau Swift Trawler 30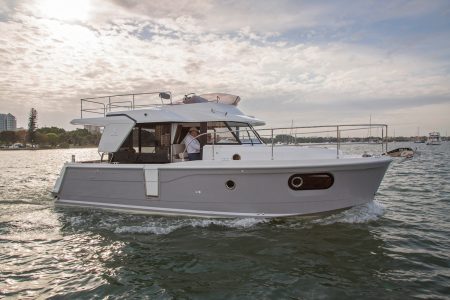 This smart, stylish boat is a contemporary rendition of a classic trawler, from a builder that knows a thing or two about the realities of long-distance cruising. (The first Swift Trawler 34, next step up in the line, successfully completed The Great Loop upon its introduction in 2012.)
The new Swift Trawler 30 was designed with an open and practical exterior: The starboard side deck is wide and protected by a high rail. The view from the pilothouse helm is panoramic. The flybridge offers a lounging area with removable table. The transom hinges opens to extend the cockpit space to the swim platform, creating a "terrace over the sea."
Inside, the boat comes in two layouts: a one-cabin version with a separate head and shower, and a two-cabin version with a forward master and over-under bunks to port. Should more friends want to join the journey, the salon sofa folds out to a double berth. The galley includes a two-burner cooktop and oven, refrigerator, twin sinks and storage.
With a fuel capacity of 190 gallons, the Swift Trawler 30 reports a cruising range of about 200 miles, so be mindful on long stretches with limited services. An air draft of 16 feet, 11 inches and a water draft of 3 feet, 5 inches are acceptable. Volvo Penta's six-cylinder D6‑370 diesel inboard promises dependable performance and low emissions.
Length Overall: 32'9"
Beam: 11'7"
Draft: 3'5"
Displacement: 13,224 lbs.
Fuel Capacity: 190 gals.
Water Capacity: 80 gals.
Base Price: $277,800
beneteau.com
Cutwater C-24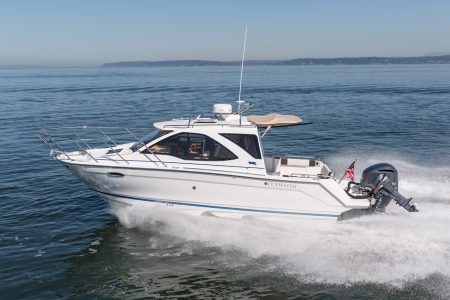 Not everyone wants to maintain a 30-plus-foot boat after finishing their Great Loop adventure. Cutwater gives these folks a capable option with its Pacific Northwest "pocket cruisers" from 24 to 30 feet in length.
The all-new Cutwater C-24 is the smallest of the line, and will present some challenges when it comes to fueling on longer legs, but it's also trailerable to allow for overland routing if necessary. The versatile model offers a number of power choices to suit the preferences of its owner: 240-horsepower Volvo gasoline sterndrive, 300-horsepower Yamaha outboard or 220-horsepower Volvo diesel sterndrive.
A deep cockpit aft, high rails forward and an enclosed pilothouse promote safe cruising and shelter from the elements. The bonded windshield and sliding windows maximize visibility — even astern via the glass bulkhead aft. This bulkhead opens to invite the outside in, and the salon dinette seat reverses to face aft. (The dinette also converts to a bed for overnight guests.) On sterndrive models, the transom bench similarly reverses to create a perch at the swim platform.
The interior of the C-24 features wood cabinetry and shelving in the galley (cooktop, microwave, refrigerator, two sinks) as well as in the private forward stateroom. There's a combined head/shower compartment and a long list of standard conveniences — from a hardtop sports rack, to windshield wipers, to a Garmin navigation suite — that make this boat truly cruise-worthy.
Length Overall: 23'7"
Beam: 8'6"
Draft (sterndrive): 1'9"
Dry Weight: 5,300 lbs.
Fuel Capacity (gasoline): 116 gals.
Water Capacity: 30 gals.
Base Price: $99,937
cutwaterboats.com
Great Harbor TT35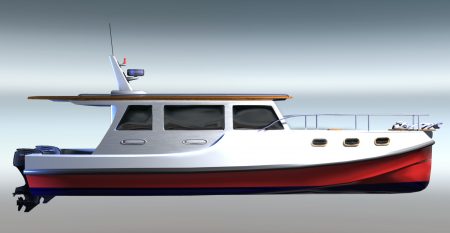 Recently introduced by Mirage Manufacturing, the first TT35 is expected to be finished this fall. Like the Cutwater C-24, it was designed to be trailerable, making it easy to move, launch and store. But, since the boat makes from 3 to 5 nautical miles per gallon when powered by twin 60-horsepower four-stroke outboards, range is greatly increased — and there's always the option of cruising on just one engine as a fall back.
That enviable fuel economy is achieved through the use of composite coring, advanced aramid fabrics and other weight-saving technologies, in addition to a hull sporting a fine forward entry and broad lifting surfaces amidships and aft. This results in a wave-piercing profile that is efficient, stable and easily driven.
Living spaces include a private forward stateroom with an island queen berth, a head with separate shower, and a full galley with household-style appliances. In the salon, a convertible dinette or L-shaped settee provides additional guest accommodations. The cockpit features a full-length roof that can be fitted with screening or a weather enclosure, as well as fold-down berths to make a third stateroom. The elongated roof also creates a large overhead area for dingy storage or a solar panel array.
Length Overall: 35'8"
Beam: 10'4"
Draft: 1'4"
Displacement: 6,500 lbs.
Fuel Capacity: 200 gals.
Water Capacity: TBD
Base Price: $239,000
mirage-mfg.com
Grand Banks 44 Eastbay SX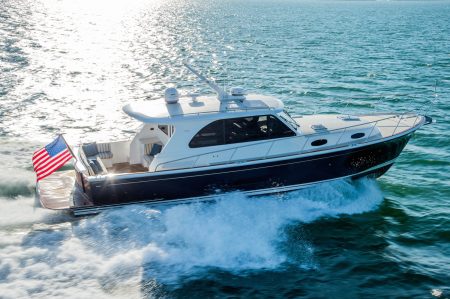 Sophisticated and luxurious, the Grand Banks 44 Eastbay SX romances owners with features like Burmese teak cabinetry, quartz countertops, cutting-edge entertainment systems, designer fabrics and much more. Not that there's anything wrong with that. We all want the best, and this Downeast-style yacht has it.
What it also has is a pedigree built on comfortable and efficient cruising, thanks to decades of fashioning long-distance trawlers. The 44 Eastbay SX is more muscular, of course, equipped with twin Volvo Penta diesel power plants to take you farther faster, on a sturdy hull with upswept bow that can manage the rough stuff you might encounter in big-water portions of the Loop. Fuel is an impressive 488 gallons, fresh water 194 gallons — and the draft a relatively shallow 3 feet, 2 inches.
The 44 Eastbay SX is available in three staterooms (a master forward and two guest cabins) or two staterooms (a master forward and one guest cabin). In either case, the master comes with access to a private head. A second head for guests can be equipped with shower, plus a washer/dryer, which is a handy item to have while cruising. Other amenities include a flip-up flatscreen TV and home theater, microwave, dishwasher, fridge and freezers.
Length Overall: 46'10"
Beam: 14'7"
Draft: 3'2"
Displacement: 39,600 lbs.
Fuel Capacity: 488 gals.
Water Capacity: 194 gals.
Base Price: TBD
grandbanks.com
Nordic Tugs 40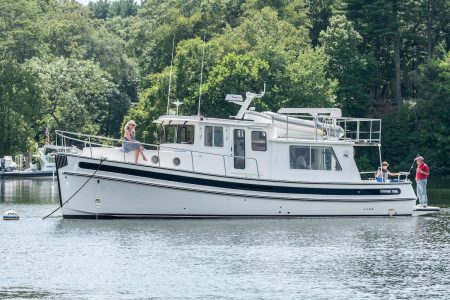 The new NT40 is an evolution of the builder's popular NT39, but with significant improvements that make the boat even more functional. Starting aft, there's a bigger swim platform as well as an enlarged cockpit with both transom and starboard boarding doors. A staircase to the upper deck replaces the ladder on the NT39, and a two-panel sliding door to the salon/galley eases traffic flow and blends the indoor and outdoor areas.
Widened side decks with drains, curbs and rails lead to the extended bow, which has a larger sundeck and a redesigned anchor system. The latter now has split anchor and storage lockers, with drain bosses to direct mud, sand and water overboard. Under the surface, softened chines reduce wave slap while anchored or moored.
Inside the beamy salon and galley, a new layout maximizes space, with a pilothouse a few steps up. The master stateroom is forward, now with more headroom thanks to the retooled deck. A guest cabin with bunks sleeps two more.
With a 320-gallon fuel capacity and Volvo D6‑370 diesel inboard, the NT40 has a reported range of approximately 1,000 nautical miles at 8 knots. The standard model specifies a large aft overhang that can be used for dinghy storage, or an optional flybridge with L-seating and a table is available. (Neither model will present bridge clearance issues on the Loop.) A draft of 4 feet, 4 inches is less than ideal but not prohibitive.
Length Overall: 41'11"
Beam: 12'11"
Draft: 4'4"
Displacement: 22,800 lbs.
Fuel Capacity: 320 gals.
Water Capacity: 144 gals.
Base Price: $629,450
nordictugs.com
Ranger Tugs R-23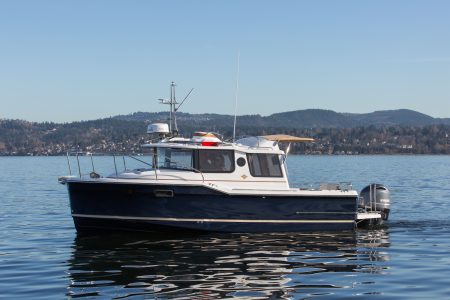 Another "pocket yacht" from the Pacific Northwest, the R-23 may look conservative from afar, but up close its features say otherwise. The ship-style pilothouse, for instance, features a dramatic, curved windshield and visor and sliding side windows. A cluster of overhead skylights and an opening glass bulkhead aft provide an open and airy feeling in the cabin.
Forward is a dinette and table that convert to separate bunks or sleeping for two with a filler cushion. A mid-berth is great for kids or storage. Both are served by a head with shower; a sink and vanity are opposite. In the salon, a second dinette converts to a sleeper for more guests. The compact galley includes a cooktop, microwave and refrigerator/freezer.
Incorporating the amenities of a larger vessel, the R-23 comes with a VHF radio, illuminated compass, Garmin 7610 GPS with depth sounder and fish finder, and is available with optional HDX radar. Like to fish? The cockpit has standard rod holders, a folding double seat, and optional downrigger pads and outlets.
The R-23 is powered by a standard 200-horsepower Yamaha outboard or optional 170-horepower Volvo diesel sterndrive. As with the Cutwater C-24, range will be a consideration on The Great Loop, but when the journey is the destination, the Ranger Tugs R-23 presents a truly unique cruising opportunity.
Length Overall: 27'8"
Beam: 8'6"
Draft: 1'7"
Dry Weight: 5,000 lbs.
Fuel Capacity: 80 gals.
Water Capacity: 22 gals.
Base Price: $99,370
rangertugs.com
Author: Doug Simmons is a regular contributor to HeartLand Boating magazine