The Cumberland River has always been one of the most beautiful river trips in America. There are 381 navigable miles on the route from Smithland, Ky., on the Ohio River to Celina, Tenn. Cruise planners in trawler-speed boats calculate Clarksville as the perfect halfway point from Grand Rivers to Nashville. As of last July, there is finally a marina.

Building marinas alongside narrow rivers subject to floods as high as 50 feet presents major challenges. The docks have to float, but floating docks are easily broken away by swift currents and debris during floods. Even when the river is at normal levels, the current presents captains with problems when trying to dock.

For many years, a hardy group of boaters has operated the Clarksville Boat Club at mile 132.4. Individual floating, covered docks are chained together with trailer hitches. At the upstream end, a long steel cable is tied to a tree. A 100-foot Уdiverter dockФ was also put in place here, designed to divert floating trees and trash from the boats tied up below. Club members allowed boaters to tie up alongside the diverter dock overnight for a modest donation. During the night, leaves and trash would pile up both behind and under your boat, possibly plugging a through hull. Additional excitement was provided by the frequent tows going past a few feet away. Access to the shore was a steep ramp that went up to a roadway, but the location was miles away from any stores or restaurants.

A few years ago, the City Government made a major investment in the waterfront and constructed McGregor Park at Mile 126. This park includes a boat ramp and a very solid floating concrete dock with room for two or three boats. This dock is right downtown but is not ideal for more than short stopovers due to the frequent wakes from waterski boats that prefer that location.

Construction of a new marine facility integrated with a park about a mile and a half upriver from downtown began in 2009. This was an enormous project and encountered many setbacks, including a contractor bankruptcy and the May 2011 Cumberland River flood that caused a lot of damage to the unfinished project.

If you come by boat from Barkley Lake, watch for the flagpole and Liberty Point Pavilion on the shore on your port side. Make a 90-degree port turn and slow down to idle speed. There is no current in the harbor.

If you come from Cheatham lock you will see the sign on the side of the Liberty Point Pavilion and make a starboard turn to enter the harbor. Note the two floating fountains on your starboard side and avoid them.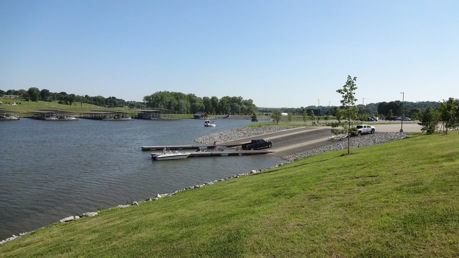 As you proceed, there is a busy, four-lane boat ramp on your starboard. The marina fuel dock is straight ahead. There is more than 300 feet of transient dock with power, water and pump outs. Covered slips are also available for 20-, 30- and 40-foot-long boats.

The odds are pretty good you will be met by manager, Ric Cheyney. Ric knows boats, as he spent 24 years in the Coast Guard and has been a licensed 100-ton captain for the past 17 years. The marina is owned privately by an individual who also owns a marina in Knoxville and another in Nashville. Liberty Park is owned and maintained by the City of Clarksville.

Once you are docked and ready for some exercise and adventure, head up the ramp to Liberty Park. If you have bicycles, this is an ideal place to ride. Start at the Liberty Point Pavilion; if you are with a group you might plan to hold a catered event here. The view from the deck covers a long expanse of the river.

Then, there is a beautiful, shady walking path along the river, where you can sit and do nothing except watch for tows. In total, there are almost two miles of walking paths in the park. You will pass by an amazing Rotary Club park for children, with all kinds of climbing and even a set of bells to play music. The last area along the river is a fenced dog park, where you can let your dog run loose.

Head east and around a fishing pond, and you will come to the Wilma Rudolph Pavilion. There is an immense amphitheater for concerts and a vast inside space for events. Wilma Rudolph was a famous Olympic runner who grew up in Clarksville and became the first woman to win three gold medals in one Olympics in Rome in 1960. A park on the roadway side of the building has a sculpture with text in the path that tells her story.

Downtown, with several good restaurants and a great museum, is less than two miles away by road. Veterans Cab will take you there, or to nearby hotels (Riverview Inn, Westgate Inn & Suites), and a choice of shopping areas.

AT A GLANCE

Clarksville Marina

1190 Highway 48

Clarksville, TN 37051-0453

931-444-0646

Email: rcheyney@clarksvillemarina.com

www.clarksvillemarina.com

Hours: Open all year. Summer hours are 8 a.m. to 6 p.m. (closed Tuesday); winter hours are 8 a.m. to 4 p.m. (closed Tuesday and Wednesday). It's best to make reservations by phone or email in advance of arrival.

Credit Cards: Visa, Mastercard, Discover

Fuel: Diesel and 87-octane, ethanol-free regular

Transient Dockage: Covered and uncovered, 20 to 200 feet

Water Depth: Minimum 10-foot summer pool, 8-foot winter pool

Amenities: Free WiFi, rest rooms, showers, laundry

Services: Pontoon boat rentals, live bait (minnows, worms, crickets in season), boat ramp, pump out

Getting There By Water: Cumberland River Mile 127.4

Getting There By Road: I-24 South to Exit 86; south on US 41/41A to 48; I-24 North to Exit 11; West on Highway 76 to 12; left at 48